Marc Millet is a multi-location franchise owner, but becoming the largest group within the Baskin-Robbins organization would be the cherry on top of his successful career. Partnering closely with a finance company that understands the quick service restaurant (QSR) space, he's on his way to achieving his dream.
The entrepreneur's love for the business and the brand comes from his start as a crew member in his parents' store. From scooping ice cream in those early days to now owning Millet Desserts, Inc., one of seven stores currently operating under his leadership, he's built an impressive portfolio. However, it wasn't always easy.
Teaming up with QSR specialists helped navigate a rocky road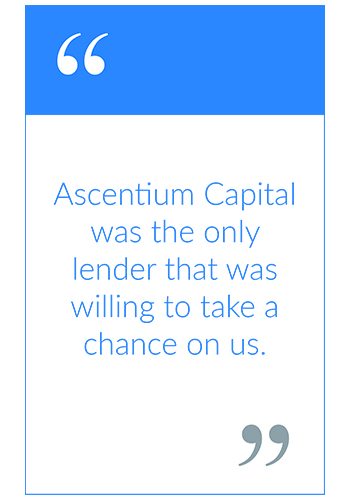 With aggressive growth plans, Marc knew he couldn't let the COVID-19 pandemic slow down his progress. In 2021 he was looking to build his 7th store, but quickly learned that lenders did not want to work with restaurants, an industry that had been significantly impacted by mandated shutdowns and financial losses. After several disappointing attempts to find the right financing solution, he turned to Ascentium Capital.
"We chose Ascentium Capital for this project because we had been through 6 other lenders, and we kept getting no's from them. Ascentium Capital was the only lender that was willing to take a chance on us, knowing that the QSR space was doing better than other food service establishments during that time." –Marc Millet, President & Owner, Millet Desserts, Inc. DBA Baskin Robbins
With extensive history in franchise financing and a deep understanding of market dynamics, Ascentium proposed a flexible plan that included application-only financing with minimal paperwork, and the ability to defer full payments until his store was open and generating revenue. This way, Marc could focus on construction and not his payments.
"We didn't have to worry about the payments until the project was done, our doors were open for business, and we were making money." –Marc Millet, President & Owner, Millet Desserts, Inc. DBA Baskin Robbins
Careful coordination led to a sweet outcome
Typically, a new location project for Millet Desserts consisted of a "vanilla shell"—the physical structure was in place, and just the contents needed outfitting. This new build was much more involved. It required constructing the entire store from the ground up. Careful coordination to ensure that contractors were being paid quickly, and in the right order, to keep things moving forward without a hitch was essential for success.
"I worked closely with Marc to understand his needs and the full scope of the project," shared Jeff Matos, VP of Sales-Franchise at Ascentium Capital. "In a complex job like this one, timing is critical, especially when multiple suppliers and contractors are involved. Staying connected every step of the way to Marc and his team led to a great outcome."
Hungry for more
Marc Millet is dedicated to building lasting relationships, whether it's with the people in his community, his employees or with the businesses who support his growth. Whether another acquisition or a remodel on the horizon at one of his existing locations, Marc plans to work with Ascentium for a long time. Having a financing source that knows your industry and is aligned with your vision is invaluable.

---
Reach out for PIPs, new builds and remodels
We recognize that single and multi-unit franchise owners are busy entrepreneurs with plenty on their plate. Keeping a concept fresh, viable and profitable is not something you need to tackle alone. With more than 20 years of franchise financing experience, Ascentium's finance specialists can help bring your business to the next level.
Fill out our quick contact form today for more information.
The mention of or links to third-party information, services, products, or providers does not imply endorsement or support by Ascentium Capital. Individual research should be done before use of any product, process or service mentioned. The statements contained in this video depict the experience and opinions of the speaker and are not endorsed or guaranteed by Ascentium. Ascentium Capital provides links to YouTube and other websites merely and strictly for your convenience. The site is operated or controlled by a third party that is unaffiliated with Ascentium. The privacy policies and security at the linked website may differ from Ascentium's privacy and security policies and procedures. You should consult privacy disclosures at the linked website for further information.