Dickson Furniture Manufacturers, based in Houston, TX, has been providing unmatched expertise in furniture and case goods manufacturing for the hospitality industry for over 45 years. In 2020, industry supply chain issues, mandated shutdowns, and cash flow challenges disrupted operations for this traditionally 'cash in advance' business.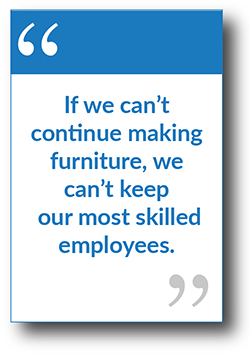 Projections were discouraging and they anticipated growing challenges to maintain operations and retain their highly skilled workforce. The company learned that enforcement of property improvement plans would be postponed for 2-3 years, giving hoteliers little incentive to comply.
Paul Mougel, Director of Hospitality Sales at Dickson, quickly realized the need to help hotel owners recognize the opportunity to utilize downtime to make upgrades sooner vs later: getting ahead of the competition and marketing a 'newly upgraded' property when occupancy rates rebound. This would also enable Dickson to keep their most valued assets, over 250 U.S. employees, building furniture.
Hoteliers Sought Upgrades with Non-Traditional Options
Hoteliers were facing low occupancies, lower ADRs, and were lacking cash flow. Traditional finance programs were not attractive at that time. Having a close relationship with Ascentium Capital, Dickson reached out for new, creative ideas.
"I've had a close relationship with Dickson for 15+ years. When Dickson approached me about their issue, the management team at Ascentium Capital came together to deliver a radical and innovative program. We, at Ascentium Capital, pride ourselves in meeting the changing needs of our clients and helping them gain a competitive advantage in any economic environment." Ricardo Illanes, VP—Sales Ascentium Capital
Game-Changing Solution
The Ascentium team proposed a 0% interest financing program for prospective Dickson clients. Financing options that align with cash flow were attractive and expanded options to serve more businesses.

The Ascentium team and Mougel quickly implemented this financing program and added a direct link to apply for financing on their website.
Mougel was pleased with the quick approvals and funding from Ascentium, which streamlined his sales process. "It was a very simple process. The client got their money through Ascentium, we got paid, and that's how the successful relationship began."
The 0% interest program ultimately changed the way furniture is bought and sold and strengthened Dickson's position in the hospitality industry.
"The 0% interest financing was a real game changer. We've used the program for over two years," said Paul, "It's been very successful for us."
Remodeling Furniture Manufacturing with 0% Interest Financing
"Ascentium Capital has been a great partner because they have so many different financing opportunities. They helped us save 250 U.S. jobs and set records."
Today with over 300 Houston-based employees, Dickson Furniture Manufacturers remains an industry leader and continues setting precedents, raising standards, and surpassing client expectations. They serve an array of business furniture and fixtures needs in the hospitality industry including corporate apartments, tradeshows, and dorm furniture. While the broader hospitality industry struggled, Dickson Furniture Manufactures earned record profits in 2020 at the height of the pandemic and continues to prosper.

---
Upgrade your Business with 5-Star Hospitality Financing
Learn how Ascentium can help you develop your business dreams and let you sleep easier at night with customized financing options. Our dedicated professionals understand your industry and will strategize with you to optimize value with financing solutions for manufactures and business owners.
Fill out our quick contact form today and let us help your business grow.
The mention of or links to third-party information, services, products, or providers does not imply endorsement or support by Ascentium Capital. Individual research should be done before use of any product, process or service mentioned. Ascentium Capital provides links to YouTube and other websites merely and strictly for your convenience. The site is operated or controlled by a third party that is unaffiliated with Ascentium. The privacy policies and security at the linked website may differ from Ascentium's privacy and security policies and procedures. You should consult privacy disclosures at the linked website for further information.