It's rare to have the opportunity to team up with a company whose core values and foundational strengths align. Ascentium Capital's focus on speed and going above and beyond was exactly what LogoJET was looking for to empower clients seeking customized financing for their inkjet printing solutions.
"One of our core values is having a 'Sense of Urgency', and Ascentium Capital's team emulates that. They're extremely responsive to our needs," Susan Cox, CEO & Founder of LogoJET, remarked. "They're an extension of our sales team. We empower customization here at LogoJET, so we're constantly coming up with different solutions that are outside the box, and Ascentium Capital is working with our clients in that same way."
A leader in direct-to-object inkjet printing equipment manufacturing, LogoJET was established in 2005 and has grown to support over 1,000 businesses. The company has developed the ability to print on a wide variety of substrates such as wood, metals, plastics, glass, ceramics, stone, vinyl, rubber, and even curved products using simple inkjet technology. Ascentium Capital worked hard to earn LogoJET's business and has been an integral part of the company's growth and success.
Ascentium Capital provides links to YouTube and other websites merely and strictly for your convenience. The site is operated or controlled by a third party that is unaffiliated with Ascentium. The privacy policies and security at the linked website may differ from Ascentium's privacy and security policies and procedures. You should consult privacy disclosures at the linked website for further information.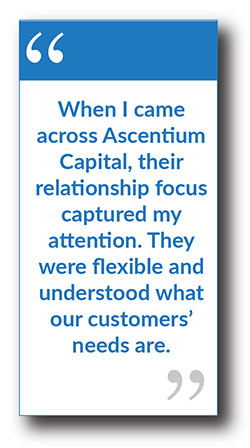 "When I came across Ascentium Capital, their relationship focus captured my attention. They were flexible and understood what our customers' needs are," said Cox. Ascentium's been there to support client's successful implementation of customized in-house printing by offering a variety of flexible financing options and superior customer service.
It was important to team up with a company who knew the printing industry. Susan explains, "We deal with a lot of small businesses that have not used financing before, and business financing is not the same as leasing a car. It's essential to have a knowledgeable team to ensure you're making an educated decision. We've been working with Ascentium Capital for about 12 years now."
"They take the time to listen to our customers. They take the time to learn about their business so they're not just offering a product to them, they're really taking the time to know the customer."
Speed is critical in the printing industry. "Most of our clients are ready to move forward immediately, and they're looking for something within a 24-hour turnaround time," said Susan. "Often, we've had funding as fast as three hours."
One of LogoJET's many pleased clients shared the following regarding their experience:
"Ascentium Capital made it very easy to get funding for a new LogoJET inkjet machine for our business. After submitting the application, it took less than 24 hours to get the funds needed. When we applied with another lender, it took over 2 weeks just to be approved. Our finance specialist made sure the financing process was quick and simple! We highly recommend Ascentium Capital for fast business equipment financing." Reva Erskine, President, Sawgrass Sewing, Inc.
The various tools offered such as the MyAscentium dashboard provide visibility to the application status and make things quick and simple for clients. Ascentium also offers training for sales teams.
"They provide a customized application page, so clients can remain on our website while completing the application, and that's really important. We are making the recommendation for our customers to apply with this financing partner and it's important that it works, it's important that the response is quick, and that it's seamless."

---
Empower your clients
When you work with Ascentium Capital, you get a team dedicated to the success of your business. Our relationship professionals know your market, understand your products and services, and strategize with you to optimize the value you bring to your customers. Make your mark with Ascentium's customized financing solutions for manufacturers and business owners.
Fill out our quick contact form today and let us help your business grow.
The mention of or links to third-party information, services, products, or providers does not imply endorsement or support by Ascentium Capital. Individual research should be done before use of any product, process or service mentioned.