The Covid-19 pandemic has changed our daily life and forced many companies to adapt to wearing masks, social distancing, expanding remote work situations and embracing digital solutions. As we navigate an uncharted marketplace, there's no playbook to reference for this uncertain business environment. Companies are challenged to rapidly transform to meet evolving business practices with the use of technology.
Expedite Digital Transformation with Technology as a Service (aaS)
Using resources efficiently is more critical than ever, so many companies are speeding up digital transformation with technology aaS. Flexible, efficient and affordable, the aaS business model helps level the playing field for companies large and small. Moving to cloud solutions and paying for use of technology can help keep your company moving forward.
Utilizing aaS options for equipment and technology enables businesses to promptly respond to shifts in the marketplace and setup or modify processes needed to sustain operations and easily scale solutions to contract or expand. Making it even more enticing, the responsibility of maintaining aaS solutions is typically left to the technology providers. Lean digital operations can enable businesses to evolve and grow faster. The pandemic has shown us that many employees can work from home with equal and sometimes more efficiency. The cloud-based collaboration market extends well beyond Zoom and Microsoft Teams.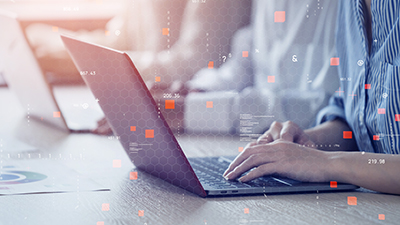 Businesses are accelerating aaS digital transformation to address the exponential increase in demand for remote worker services and greater agility for adapting to rapidly changing market conditions. It's critical for companies to tailor technology services and products based on business needs rather than the one size fits all solutions of the past.
The aaS framework provides the flexibility to quickly modify and streamline business processes without large capital expenditures or long-term commitments. Select and bundle solutions that align with business objectives and existing operations. Integrate the latest technology while holding onto precious cash by investing resources in an all-inclusive solution that's best for your company and customers.
Reap the Benefits of aaS Technology Solutions:
Bundle equipment, software, and related expenses into one simple contract
Spread expenses over fixed monthly payments
Get ahead with the latest generation technology solutions
Say Farewell to Technology Obsolescence, High Fixed Costs & Overhead Expenses
Not long ago, many enterprises that relied on technology to optimize business operations required setting up large physical data centers, developing specialized apps and hiring a large team of employees to keep systems running. That typically required substantial expenditures for equipment and overhead. Cloud computing and Software as a Service (SaaS) have changed the digital landscape for businesses. Technology providers are meeting businesses' needs by embracing the new service-economy and offering a pay-per-use subscription model where technology is bundled as a service.
This transformation can provide companies with ala carte functionality for many process improvements. In a world where technology and customer expectations are constantly evolving, it's essential that companies increase their agility across the board. The aaS model is desirable for many organizations regardless of size because it offers the chance to utilize the latest technology without having to be a technology expert or hire a specialist. Let's explore some core components of the aaS digital transformation.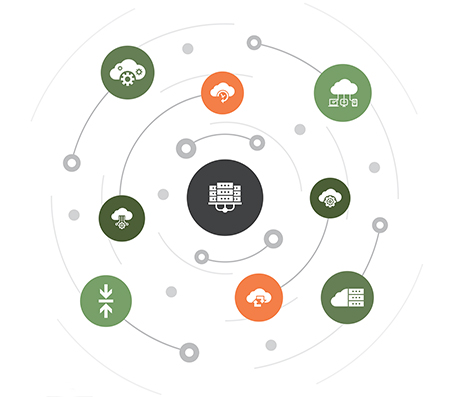 Software as a Service
Software as a Service (SaaS) is a primary tier of cloud computing that enables businesses to redirect resources away from IT hardware, physical software and personnel expenses. Under the SaaS model, service providers sell access to and use of software and databases. The infrastructure platforms and underlying logistics are outsourced. Typically, fewer resources are required and costs are reduced by paying a per-user or per-use fee to the service provider. This pricing model offers scalability, which affords access to the latest versions of the software. Users can be added or removed as needed without the capital expenditure typically required to modify technology infrastructures and add licenses. Some of the largest companies in the SaaS market are Microsoft, Salesforce, Adobe, SAP, Oracle, and Google.
Equipment as a Service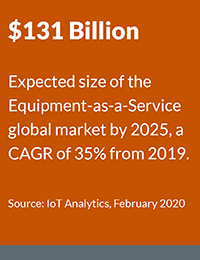 (EaaS) is a business model that involves renting equipment to businesses and collecting payments for the use of the equipment. This service-driven model may provide a variety of benefits to both the EaaS provider and the customer.
Reduce time to market
Minimize investment
Reduce risk
Eliminate unnecessary IT/tech overhead
As we all adapt to the post-pandemic marketplace, there are long term trends that should be factored into business objectives. Consider the pandemic disruption an opportunity to gain a competitive edge and reconfigure operations. As companies evaluate and adjust strategies, technology will continue to play a pivotal role. Companies are seeking technology solutions that streamline operations, decrease fixed costs and overhead expenses, which may ultimately increase profits. Through integration of innovative aaS technology solutions, businesses may scale up (or down) despite tough economic conditions.
~~~
Ascentium Capital can help you develop an all-inclusive software and technology equipment financing solution with a conveniently bundled monthly payment.
Contact us today to accelerate your digital transformation with a solution tailored to your business needs and goals.