Many companies have had to make a quick pivot to remote operations. Part 1 of this article examined some of the technology and software needed to make a successful change. This part offers insights and tips from companies that have been operating remotely and focuses on the other two components of the organizational model: Process and People.
Processes, Polices and Protocols for Remote Work
New or enhanced processes may need to be put in place for remote workers. Functions like sales, marketing and IT may already be remote-friendly and able to convert smoothly. Other functions like procurement and accounting may be less equipped to operate remotely. Consider your processes and workflows on a department-by-department basis to determine the best solution for remote operation that keeps the business running. If your company doesn't have an existing Business Continuity Plan, tracking the steps you take now can help facilitate the creation of one that can be updated as needed.
Policies and processes that work for the remote workforce need to be created and put into effect. Examples include:
Your "Bring Your Own Device" (BYOD) policy. What requirements do you need for employees who are using their own computers and devices for their daily work? Are there processes they need to follow to ensure the security of BYOD devices?
Monitoring productivity. Assessing productivity varies from company to company. Some businesses focus on results tracking rather than time tracking while others require employees to log time and daily tasks. The process you use will likely depend largely on the nature of your business and your organization's culture.
Communication protocols. Response from companies with remote workers (some 100% remote) to a question about communication protocols included these suggestions:

Make sure workers understand how the tech tools work and can use them effectively.
Promote "core hours" during the workweek when employees will be available for meetings regardless of time zone. You may want to consider flex-hours for specific individuals or positions as well.
Encourage department managers to set meeting schedules that make sense. Some companies reported having a weekly meeting, while others meet daily over the Internet
Consider real-time text conversations, during the workday based on whether it can enhance the duties of the position. Many chat platforms allow employees to show their status (away, on a call, etc.), and keeping this up to date enables fellow workers to know when each other is available.
Consider creating expectations for use of virtual communication tools (e.g., response time to messages or requests) that everyone understands and adheres to.
As a side note, some companies replied that they have not instituted protocols around communication and simply expect employees to operate as needed to get the work done.
People
How can you keep people productive and "plugged in" to the company if working remote is new to the employee or to a manager that now has remote employees? The People part of the remote business structure requires thought around the needs and expectations of managers and employees that are automatic in an office environment (e.g., in-person conversations, ad hoc meetings). These are some of the challenges cited by companies that have moved fully or partially to a remote workplace:
Empathy doesn't come as naturally over the internet as it does in person. Even with video meetings, phone conversations, and text chat, there is a chance that employees will become more and more distant in their interactions.
The need to focus on tasks or conversations may take different forms in a remote situation. One company leader reported taking a walk for phone conversations that require keen concentration, which for them works better than attempting to talk in a home office or having a video meeting full of distractions on other people's screens.
Home and work life may tend to blur. Employees may end up burning out by working longer hours or psychologically never having "down time."
Gartner offers recommendations relating to the People component of a remote workforce:
Foster or deepen a culture in which managers trust employees to do their work remotely and employees are valued for their contributions.
Set clear direction and deadlines, then allow workers to make decisions about when, how and where they will meet those deadlines.
Be readily available to answer questions and provide coaching to employees.
Coach, guide and enable managers to oversee remote workers effectively.
Allow and encourage employees to find ways to socialize remotely with their colleagues.
Facilitate collaboration and encourage contribution from everyone.
Input from a variety of companies echoes Gartner's recommendations, with some detailed examples:
Encourage video calls to promote face-to-face interaction.
Have communication channels that are purely social to allow employee to engage with each other. One company reported having a #water-cooler Slack channel where employees could chat about non-work topics.
Ramp up trust. With managers unable to visually monitor the work of direct reports, trusting that the work is getting done is essential.
Make sure clear expectations are in place and people understand what is specifically expected of them.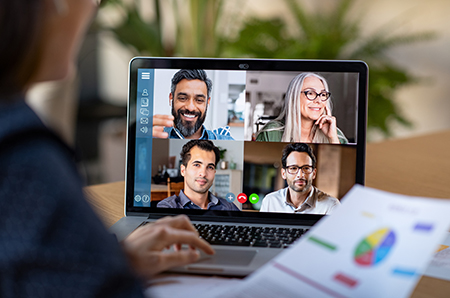 Several companies noted that not all employees have the characteristics that make remote work effective for them. One leader observed that remote work is most successful when employees are disciplined self-starters, and another noted that some personalities have a hard time working from home or without co-workers around them. In our current situation, where these people have no choice about workplace, extra coaching, guidance, and time allowance for task completion may be needed.
Will the Genie Go Back in the Bottle?
Having dipped an organizational toe in the water of remote work, companies may want to retain some form of remote work structure even as businesses are allowed to fully re-open and people can once again be co-located. Pre-pandemic statistics favor this direction:
Hiring and retention. One 2019 survey found that 71% of U.S. survey respondents agreed that the ability to work remotely would make them more likely to choose one employer over another in their next job. 74% stated that their ability to work remotely would make them less likely to leave their employer.
Employee morale. 83% respondents to the same survey agreed that the ability to work remotely would make them happier while 80% agreed it would make them feel less stressed.
Productivity. Gallup's State of the American Workplace report found that remote workers can be 20-25% more productive than their onsite colleagues.
Cost savings. Several states, including Vermont, Virginia, Georgia and Oregon offer grants and other incentives for businesses that adopt remote working policies. Further, companies report substantial savings related to real estate and energy costs needed to support on-site workers, a reduction in absenteeism and environmental benefits from their remote workforce efforts.
We've learned through the COVID-19 pandemic, companies with a structured remote work policy can more easily flex in the event of a disaster. But, as we've shown, there are other benefits that businesses can realize when adopting remote work policies.
~~~
Keep your employees engaged and business productive. Ascentium Capital offers technology and software financing programs to help your company prepare and support your remote work needs.
Contact us today and receive a no obligation financing quote.
The mention of or links to third-party information, services, products, or providers does not imply endorsement or support by Ascentium Capital. Individual research should be done before use of any product, process or service mentioned.