The components that comprise information technology (IT) have always been interconnected. In the early days of business computing, as local storage capacities increased, software applications became more powerful. Then, as internet speed increased, audio and video were added to written communications and collaboration platforms became integrated into business processes.
As IT components increase in both number and complexity, businesses have been brought to the threshold of a major transformation—a digital transformation. Gartner reports that IT spend is shifting from traditional components (e.g., PCs, data centers, mobile phones) to maturing components like cloud solutions or "as a service" (aaS) solutions and the Internet of Things (IoT) as it can be leveraged in operations. These and other IT components are catalyzing a change in the role of IT in an organization.
The Shift to the Cloud
Around 60% of enterprises surveyed by TechRepublic indicated that most of their IT operations will run offsite by the end of 2019. The bulk of these operations will run through cloud infrastructure. Gartner reports that "cloud shift" is a key element of IT spending and forecasts that spending on Software as a Service (SaaS), applications delivered to an enterprise via the cloud, will increase in 2019. Generally, Gartner forecasts 8.5% growth in enterprise software spending in 2019, with additional 8.2% growth in 2020 to a total market of $466B.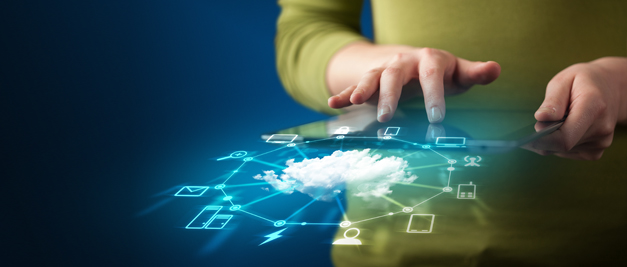 The results of IDG's 2018 Cloud Computing Survey offer a fuller picture of the state of the cloud in business enterprises:
Nearly three-quarters (73%) of responding firms have at least one application or some part of their IT infrastructure operating in the cloud. Another 17% report plans to do this within the next year.
The average budget for cloud services for small and medium businesses has noticeably increased from $286K in 2016 to $889K in 2018.
Nearly 40% of survey respondents reported that their IT functions are experiencing demands for a 100% migration to the cloud.
Analogous to the operation of multiple data centers in pre-cloud days, 42% of responding firms reported using multiple cloud environments. The top two reasons cited for this strategy are: 1) increased options for leveraging the cloud, reported by 59% of respondents; and 2) facilitated disaster recovery capabilities, reported by 40%.
Everything-as-a-Service as a Reality
The term "aaS" applies to a number of services that can be delivered virtually, including Platform as a Service (PaaS), Infrastructure as a Service (IaaS) and the first entrant into the arena, Software as a Service (SaaS). The cloud and aaS go hand-in-hand, as the latter must rely on the former to operate. Shifting to aaS allows a company to utilize the best software, infrastructure and/or platform available to the business on an anytime/anywhere basis at whatever scale is needed. It also moves the part of IT using aaS to an operating cost and helps alleviate the sunk costs of legacy systems that companies had to bear in the past.
IDG's 2018 Cloud Computing Survey reports that the average business environment is 53% non-cloud, 23% SaaS, 16% IaaS and 9% PaaS. Over 2019 and into 2020, the percentage of non-cloud environments is expected to drop to 31%.
Other Notable Components
Industry authorities assert that a number of technologies will come into play in the near term that affect the IT function and, by extension, business processes and operations. Among these are:
Artificial intelligence. The advent of the cloud and ability to manage huge datasets have made artificial intelligence (AI) a viable technology in the general business sector. In particular, AI-powered automation will roll out in many forms from back office processes to frontline customer interaction.
Machine learning. Machine learning (ML) goes hand-in-hand with AI, and the same capabilities that enable AI also enable ML. These two technologies will facilitate step-changes in the competitive landscape across the board.
Blockchain. Blockchain technology will have significant influence on the supply chains in most business sectors as well as services in the finance and real estate arenas. Public sector organization are also pursuing blockchain initiatives to optimally leverage its capabilities. Blockchain is also becoming another aaS offering, with platforms being launched by Azure, AWS and IBM.
Quantum computing. Quantum computing is a completely new way of processing and transmitting data based on quantum mechanics. and doesn't need huge computational capacity and substantial amounts of RAM. We are at the beginning of this shift, which will proceed over the next few years as the hardware and software industries create and roll out offerings that make quantum computing good business sense for companies.
Internet of Things. The Internet of Things (IoT) is now maturing into a solution incorporated across industries and becoming business as usual.
5G Wireless. As 5G Wi-Fi rolls out, with expectations of internet speeds 10 times faster than 4G. This will have a significant impact on business workflows, especially for field personnel, and could figure into developments in virtual/augmented reality, robotic surgery, drone operations and self-driving cars.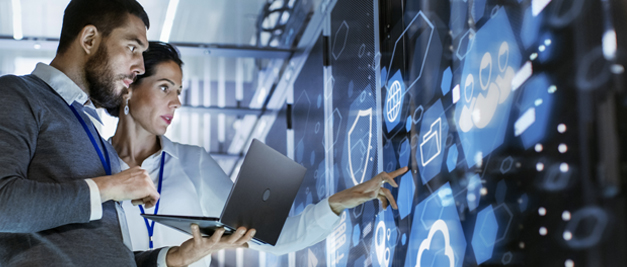 Challenges for the IT Function in the New Environment
The shift to the cloud is a reality for the business world at large, and IT must act to ensure that data and operations work safely and effectively. This mandate presents challenges that must be effectively addressed by IT along with other business functions:
Cybersecurity. Companies must keep innovating in their digital space in order to remain competitive in their markets. However, cybersecurity concerns are hampering progress in some cases. For example, in an AI survey conducted by Deloitte in 2018, 18% of participating company indicated that in-flight AI projects had been stopped because of cybersecurity concerns. In addition, 22% of respondents reported decisions to abandon the launch of AI initiatives for the same reason. This caution may extend into other cloud-dependent technologies. In today's interconnected IT world, cybersecurity services might be best delivered by a third party that specializes in this area and that can ensure that its clients stay protected as the cybercrime environment changes.
Data silos. Siloed data persists in many enterprises, and this hampers the ability to effectively use data analytics, AI and other data-dependent technologies. Breaking down these siloes is critical to success, but it may require more than IT initiatives to accomplish this. In many companies, focus on culture change may need to parallel IT projects to foster the kind of cross-department integration needed to achieve the right data environment for future innovation and competitive advantage.
aaS risks. Though aaS has unquestioned business advantages, there is a tradeoff that companies must weigh. In shifting to a cloud services model in one or more forms, they are ceding control of some or all their former in-house services in order to get the advantages of aaS. Also, though they may be more agile with the new model, they risk getting locked in with a cloud service as their application architecture and delivery becomes deeply integrated into the provider's service. Unless that provider is a trusted partner, problems could crop up over time.
Organizational talent. The rapidly evolving IT space may present challenges in terms of organizational talent as skills become outdated at a faster and faster pace. Company recruiting, hiring and training criteria might need to be assessed and possibly overhauled in order to ensure that human assets (both IT and elsewhere) are appropriate skilled to meet the digital transformation challenge.
IT has always been a sector of continuous change and innovation, but it is at the point of major breakthroughs of a scale that has not been seen in many years. During 2019 and into the new decade, these breakthroughs will transform IT and the businesses it serves.
---
Your company's technology needs are shifting. Ascentium Capital wants to help with flexible business technology financing. Whether you're implementing cloud computing, aaS technologies or upgrading existing in-house systems, your account manager can customize financing to suit your company's unique needs.
Fill out this quick online form today for a no-obligation quote.