What's the State of your Small Business for 2016?
As businesses kick off the New Year, we wanted to take a look at the data rolling in for 2015 and how it potentially effects optimism and impacts financial decisions for 2016. As with most studies and reports, business owners will have different points of view depending on industry, business size, years in business, and even location. We've focused our review on the small business sector based on their critical role as the primary engine in the overall U.S. economy.
Sentiment from small business owners appears to be more optimistic than actual 2015 growth numbers would indicate.
2015 could be described as unexciting for the small business owner and the economic growth outlook for 2016 in the small business market is forecasted to be similar – a slow, 2% growth rate. However, in a November survey of 1,400 small businesses conducted by Credibly,
small business owners were reporting optimism rates of 73%
for a successful 2016 based on demand they've seen in 2015 and expect in 2016. The survey showed that economic optimism was highest in the technology industry. In addition, another recent survey showed
small business confidence has risen to 62%
, a solid jump from two years ago when only 45% felt optimistic. The survey illustrated that small- to mid-sized business owners are experiencing growth and are now looking to reinvest in their business and employees in 2016.
In all, according to a January 2016 article by Forbes, U.S. small businesses entered 2016 with stronger sales growth, improved profitability, and more positive hiring trends.
For 2016, forecasted growth estimates are not quite matching business optimism. Optimism may be shifting more toward neutral.
Kiplinger's recently published its 2016 Economic Outlook and forecast GDP to climb to 2.8% in the latter part of 2016, up from the 2.5% in 2015.
Goldman Sachs
recently reigned in expectations of 2.4% for 2016, down from 2.8%. This shows steady, yet unexciting, economic growth expectations on a national level for 2016.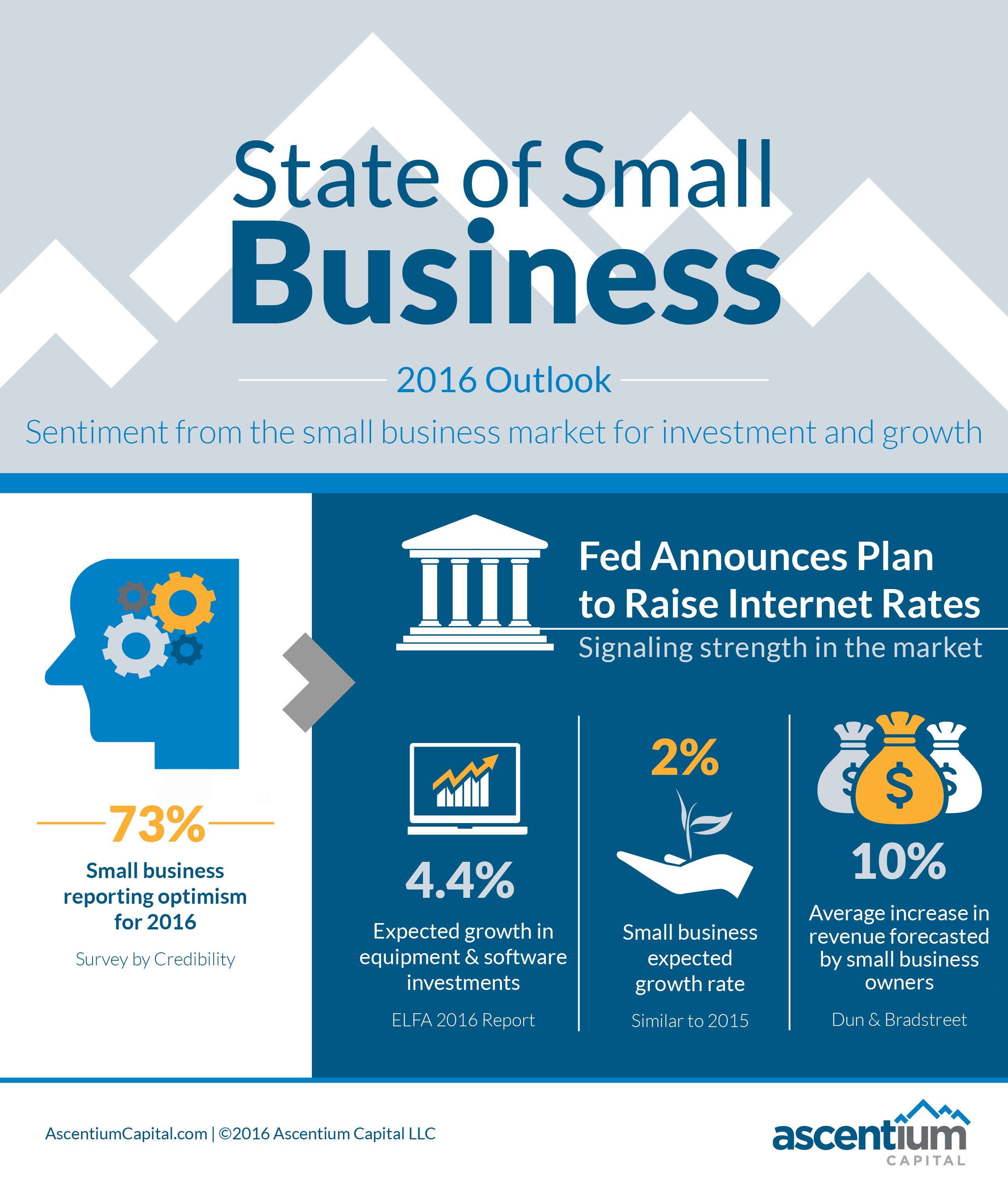 Equipment Leasing and Finance Association (ELFA) released its Annual 2016 Equipment Leasing and Finance U.S. Economic Outlook predicting continued moderate growth in equipment and software investment in 2016 of 4.4%, citing domestic strength offsetting global headwinds leading to the moderate projections for growth. ELFA also posted in a press release findings from their January survey which shows when businesses were asked to assess their business conditions over the next four months, 10.7% of executives responding said they believe business conditions will improve, a decrease from 12.5% in December. 78.6% of respondents believe business conditions will remain the same over the next four months, an increase from 75.0% in December. This shows a slight flattening in optimism in the first month of 2016.
The disparity between optimism and growth projections, in part, may come down to size, sector and location of the business. A deeper dive survey of small businesses by industry by Sageworks, for example, showed the fastest growing sector in the fourth quarter 2015 was Construction which posted double digit growth of 10.6%.
Although the small business sector experienced economic progress in 2015, with with an increase in hiring and improved access to capital via
small business loans
and other financing options, their big brothers in business may not be as optimistic given projected economic growth rates. All businesses also have an awareness of, or lingering concerns over, the different factors that are impacting economic growth including uncertainty in the market, the political climate, and an increased regulatory environment. And, the Fed's recent announcement that it will "slowly and gradually" raise interest rates, for the first time since 2008, signaled strength in the U.S. economy but may trigger businesses to pull in plans for any financing to early 2016.
So what is the state of your business? And how can you exceed expected growth rates for 2016?
As just stated, 2015 offered improved access to capital. According to a Dun & Bradstreet report, small business owners had a 5% increase in successful bank loan financings as well as experiencing better success rates through alternative financing options. And, we should expect to see a normalization of interest rates in 2016 and beyond. So, if you were hesitant to approach a loan due to historical blemishes from the economic downturn, but are now showing more business stability, you should speak with a finance company. Investments to keep up with momentum and growth of your business, or to stay competitive, should be considered as part of your 2016 strategic business plan. Exploring equipment leasing or financing options with non-traditional lenders may actually help not only your business operations, but just as importantly, your bottom line.
With the
right preparation
, small businesses have a better chance to secure the financing needed to fuel growth their business with the aim to exceed the overall economic growth projections for 2016.